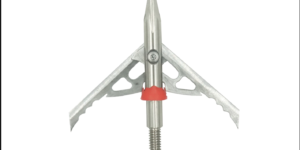 Rage TRYPAN Crossbow
New for 2018!
Rage Trypan for Crossbows!
Features:
2 Blade Broadhead
100 Grain
Hybrid Chisel Tip
Titanium Ferrule
0.039″ Blade Thickness
2″ Cutting Diameter
Keyed ferrule and shock collar
High energy series shock collar
The new 100-grain Rage Hypodermic Trypan Crossbow features a needle-like, streamlined titanium ferrule and 2-inch cutting diameter, that creates an oversized slap-cut entry hole. The Trypan Crossbow's .039-inch-thick razor-sharp stainless-steel blades slide into a sweptback blade-angle configuration, and despite the fact that the blades deploy to a monsterous 2-inch cutting diameter, the broadhead has just a 3/4-inch diameter profile in-flight. The red polymer Trypan-specific SHOCK Collars provide exceptional blade retention and consistent, reliable blade deployment. The one-time use SHOCK Collars are indexed to notches in the Trypan's titanium ferrule, so they can never be put on incorrectly and each package includes an additional 3 high-energy shock collars.
$

49.99
Read more