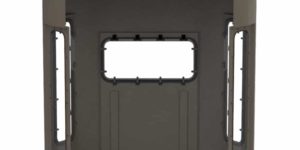 Banks Outdoors Stump 2 Vision Series
The Stump 2 has been given an enlarged 34″ x 14″ rear window, a 3-point door latching system, as well as the addition of a new foam Floor Mat in every blind. The Stump 2 'Vision' is the perfect 2-man hunting blind with a walk-in door that swings out to leave the optimal amount of space within the blind and easy entry for hunters of any age. The Stump 2 Vision Series has a 360- degree view with floor-to-ceiling windows on every side of the blind. Leg system not included.
In-Store Pickup Only!
$

2,099.99
Read more