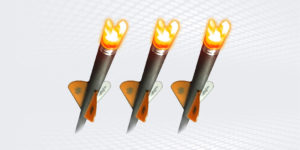 Ravin Replacement Lighted Nocks (3 Pack)
Designed to replace ONLY Ravin lighted arrow nocks in Ravin lighted arrows. LED illuminated nocks powered by Nockout® technology. Contain a built-in lithium battery. Ultra-bright orange color is easy-to-track in flight.
BACK ORDERS MAY NOT BE CANCELLED
Estimated ship date: 4-6 Months
We strive to meet or exceed the estimate for every single order!
Availability changes constantly, so don't delay. Place your order now!
Please note, this is an estimate and not a guarantee. It may take longer than we estimate to ship this item. Some reasons for delays are:
Restricted Item
Payment Verification Issues
$

44.99
Read more